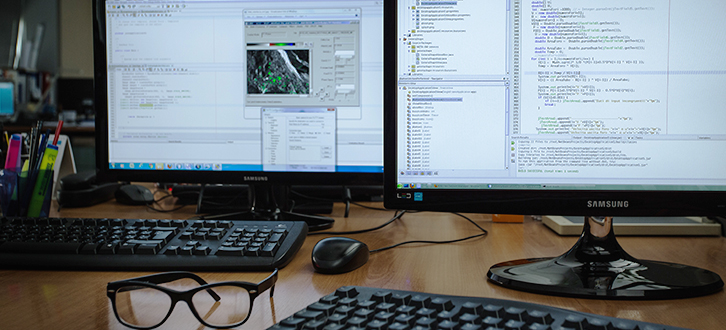 Running faster is our way of keeping up with technological innovation.
That is why, thanks to our competences in the sector of ICT, we try to anticipate technological innovation by the development of software able to satisfy the increasing demand of smart solutions.
We develop applications around the most updated technological devices, such as tablets and smartphones, and we are able to make available and accessible in a fast and intuitive way the information and results we obtain from the activities carried out in the fields of our competence, from those close to the professional fields of our interest like Earth Observation and the aerial mapping of networks and infrastructures, to those directly addressed to the citizens, like for example those related to health and healthcare, the enhancement of cultural and naturalistic tourism, mobility and e-government.
Furthermore, by combining such solutions with the functionality implemented through the modern tools offered by augmented reality systems, we can offer to the clients a way to enrich their own sensorial experience, creating a real added value to the offered service.
In the end, thanks to our activities of research and development in the ICT sector, we experiment and implement innovative processes to deliver services in the sectors of cinematography, video games and cultural goods conservation and promotion.