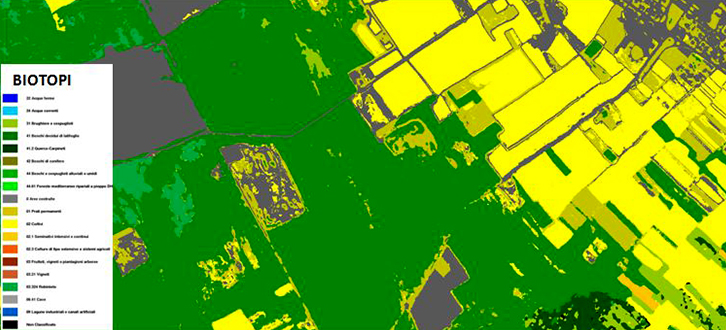 Our survey techniques are deeply rooted in the ground.
We carry out activities of identification and interpretation of the covering and use of soils, based on semi-automatic processing, like the image classification techniques, cross-validated with on the spot analysis in-depth.
The thermal camera and the hyperspectral system, able to acquire simultaneously data in VNIR and in SWIR, are the most useful tools to characterize the soil covering and to determine the topics (referring to the information system of the programme Corine Land Cover) starting from the spectral and thermal features of the soil, fundamental information for the operators dealing with the farming-forestry planning and urban-territorial management.
Furthermore, they are effective for detecting the possible illegal, illicit or environmentally-aggressive activities, such as for example unauthorized materials (asbestos), cultivation of plants for manufacturing drugs, offering an effective support to the designed bodies protecting environment or fighting organized crime.